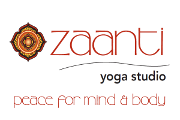 Cathy Salvini, owner

Cathy is a lifelong resident of the Berkshires. She is a Kripalu trained, Certified Yoga Teacher. Cathy has both a Bachelor's and Master's in Education. She has taught Elementary Education her whole career. She has been practicing yoga for 20 years. Cathy is thrilled to combine her love of teaching and yoga, and share this with you in a variety of Kripalu-based classes.

She looks forward to sharing her heartspace~Zaanti~with you, which she has lovingly and personally designed for your peace and comfort.
Antoinette Simms

Antoinette has been in the Health, Wellness and Fitness industry for 25 years.
Following her yoga training in Yogatherapy, she found her way to the Berkshires to study at the Kripalu Center for Yoga and Health. For several years she studied many forms of yoga, meditation and breath work. She then worked at Canyon Ranch Spa in the Fitness/Body Mind department for last 8 years instructing innovative fitness, yoga, aquatics, dance classes and lectures. One goal she has is to stay present with each student and work with them to gain body/mind awareness where change needs to happen first. One of her skills is to allow people feel to comfortable in their own skin and start where they are...to always give permission to begin again.
Susannah Gale

Susannah, E-RYT, is a Kripalu faculty member originally trained in the Kripalu tradition. Before moving to the Berkshires two years ago, her teaching reached the Boston and Providence areas.
Her teaching style strives to empower and inspire, often integrating positional therapy and foundation training with energy and Shamanic healing.
Rima Sala

Rima received her 200-hour Yoga Certified Training at Moksha Yoga, in Chicago, in 2000, and continued studies with Shiva Rhea, Ana Forest and Gary Kraftsow. Drawn to dance and movement from childhood, yoga was a gateway to movement as meditation. After an injury temporarily restricted her yoga practice, she began exploring other mind-body healing modalities. In 2001 she began from training in Asian Body Work and the study of Chinese Medicine, taking over 1000 class and clinic hours in Chicago and Italy. She was certified by two national organizations and has practiced Shiatsu since 2001. Under the guidance of one of her teachers, she began the practice of Zen, which influences her yoga and shiatsu practices. Rima's classes include short meditation and pranayama, or breathing exercises, as a way of bringing students to a place of stillness and focus, and a conscious exploration of movement and energy in the body. Born in New York City, Rima moved to the Berkshires in 2008 with her husband, and has worked in health care during much of that time. In addition to her yoga and shiatsu practice, she volunteers for Hospice and at Jacobs Pillow Dance Festival.
Cindy Yaple

Cindy is an E-RYT 200-hr., RYT 500-hr. and an Advanced Teacher of Therapeutic Yoga. Cindy has been practicing and teaching yoga since 2008. She has studied and trained extensively in the Kripalu tradition at the Infinite Light Yoga School in Jamesville, New York, and earned the certification title of Advanced Certified Professional Level Infinite Light Yoga Teacher, (E-RYT 200 hr., RYT-500 hr.). Additionally, she is a 300-hr Advanced Teacher of Therapeutic Yoga; trained by Kripalu's School of Integrative Yoga Therapy, a Trauma Sensitive Certified Yoga Teacher, a certified Divine Sleep Yoga Nidra ® Teacher, as well as a Level 1 certified Soma Veda™ Thai Yoga Practitioner. She is also a certified level 2 Reiki practitioner.

Cindy's classes are both educational and led as an experiential journey, to help find the inner peace and tranquility that we are all seeking. Her specialty is offering classes that not only focus on the students' individual needs, but offer optional variations and creatively led methods of adapting the practices of yoga, making it possible for everyone to have a safe and wonderful experience. Cindy has relocated to the Berkshires from Upstate, NY and is continuing her Yoga Education at the Kripalu Center.