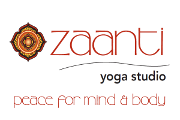 Cathy Salvini, owner

Cathy is a lifelong resident of the Berkshires. She is a Kripalu trained, Certified Yoga Teacher. Cathy has both a Bachelor's and Master's in Education. She has taught Elementary Education her whole career. Cathy has been practicing yoga for over 20 years. She is thrilled to combine her love of teaching and yoga, and share this with you in a variety of Kripalu-based classes.

She looks forward to sharing her heartspace~Zaanti~with you, which she has lovingly and personally designed for your peace and comfort.
Rima Sala

Rima received her 200-hour Yoga Certified Training at Moksha Yoga, in Chicago, in 2000, and continued studies with Shiva Rhea, Ana Forest and Gary Kraftsow. Drawn to dance and movement from childhood, yoga was a gateway to movement as meditation. After an injury temporarily restricted her yoga practice, she began exploring other mind-body healing modalities. In 2001 she began from training in Asian Body Work and the study of Chinese Medicine, taking over 1000 class and clinic hours in Chicago and Italy. She was certified by two national organizations and has practiced Shiatsu since 2001. Under the guidance of one of her teachers, she began the practice of Zen, which influences her yoga and shiatsu practices. Rima's classes include short meditation and pranayama, or breathing exercises, as a way of bringing students to a place of stillness and focus, and a conscious exploration of movement and energy in the body. Born in New York City, Rima moved to the Berkshires in 2008 with her husband, and has worked in health care during much of that time. In addition to her yoga and shiatsu practice, she volunteers for Hospice and at Jacobs Pillow Dance Festival.
Pattie Loughlin

Pat Loughlin, B.S., M.A.P.S. & D.Min., has come to the Berkshires because of her love of the mountains and nature and the profound influence Yoga has had on her life. As a clergy member of the United Methodist Church, she practiced Yoga faithfully to help deal with the challenges of her work. Coming to Kripalu several years ago for a weekend introduced her to the natural beauty of the area and the supportive environment for Yoga. Training with, Patty Townsend, founder, Corinne Matthews and other amazing teachers at Yoga Center Amherst, she completed the YTT-200 hour certification in Embodyoga@.
Cindy Yaple

Cindy is a Certified Kripalu 1,000 hour yoga teacher, an E RYT-500 hr., an Advanced Teacher of Therapeutic Yoga (300-hr), trained by Kripalu's School of Integrative Yoga Therapy, a Trauma Sensitive Yoga Teacher, certified by the Trauma Center at the Justice Resource Institute in Boston, MA, a certified Divine Sleep Yoga Nidra ®, a Five Element® Yoga teacher, a Love Your Brain® teacher and a certified Kripalu Yin Yoga teacher. She is also a certified Reiki practitioner. Forever considering herself as a student of Yoga, she is continuing her education at the Kripalu Center in Stockbridge, MA. She is a member of Yoga Alliance, a continuing educator provider (YACEP) and a member of the International Association of Yoga Therapists (IAYT).

Cindy is a compassionate yoga teacher who believes that the practice of Yoga is for everyone, at any age and any level of ability. The foundation of her practice combines the physical with an inner emotional and spiritual journey. By integrating body, breath, movement, and meditative awareness, she strives to promote an understanding of the inter-dependency of all these aspects in personal health and well-being.
Susannah Gale

Susannah, E-RYT, is a Kripalu faculty member originally trained in the Kripalu tradition. Before moving to the Berkshires two years ago, her teaching reached the Boston and Providence areas.
Her teaching style strives to empower and inspire, often integrating positional therapy and foundation training with energy and Shamanic healing.